If you are new to Palos Heights School District 128, you will complete the NEW STUDENT REGISTRATION. To get started on your NEW STUDENT registration, please CLICK HERE.
Need some assistance with registering? Click here for a tutorial.
You can find additional registration background information and hard copies of additional documents required at the time of enrollment by clicking here.
To pay for District 128 Registration Fees using RevTrak, please CLICK HERE
Registration Fees for Grades 1-8: $195.00 per child
Register prior to June 3 and receive a $25.00 Early Bird Discount!
After August 1, there is a late fee of $25.00 added to your fees.
For additional information on our New Student registration, please click here.
After you complete the initial registration form (see image below) and have been approved by the District, SchoolInsight will send out a confirmation email to the email address(es) provided with information on how to log in and access your school's online registration form.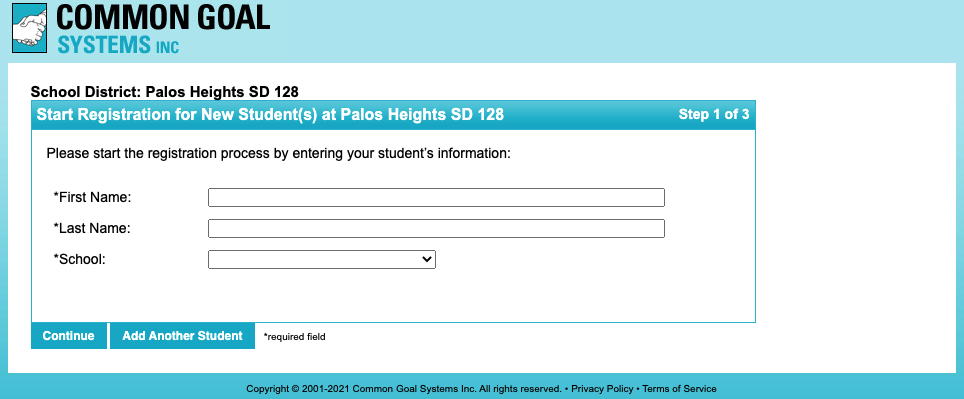 NEW STUDENT REGISTRATION REQUIREMENTS GRADES 1-8
If you are registering students new to District 128, you must complete a 4-step process to fully register your child. Please refer to the steps below.
Complete an online PRE-registration form (Click Here).

Prepare documentation for in-person residency verification at the district office. Please contact the District Office for an appointment at 708-597-9040.

Residency Documentation Requirements

ONE of the following documents is required to register: Real Estate Tax Bill; Signed Lease; Mortgage Document/Payment Book; Military Housing Letter; Section 8 Letter

TWO of the following possible documents with the current address listed is required to register: Gas Bill; Water/Sewer BIll; Phone Bill; Cable Bill; Vehicle Registration; Bank Statement; Public Aid Card; Medicaid Card; Food Stamp Card; Credit Card Statement; Paycheck Stub; City Sticker Receipt

Additional Registration Document Requirements

Valid Driver's License with current address or State ID

Student's OFFICIAL Birth Certificate (copies not accepted).

Once residency/registration documents are approved, finalize the online registration form.

Pay registration fees with cash, check or credit card. Registration fee is $195.00 per child for the 2021-2022 School Year. Mid-year registration fees are pro-rated for the time period enrolled.
Student Fees (2022 - 2023)
SCHOOL CONTACT INFORMATION
Indian Hill (Grade K) - Phone: 708-597-1285

Chippewa (Grades 1-3) - Phone: 708-388-7260

Navajo (Grades 4 & 5) - Phone: 708-385-3269

Independence Jr. High (Grades 6-8) - Phone: 708-448-0737

Palos Heights District Office - Phone: 708-597-9040